By Rossana Llenado as told to Excel V. Dyquiangco
from: https://moneysense.com.ph/striving-to-be-ahead-rossana-llenado/
"I wanted to be so many things growing up – a lawyer, a CPA , an architect, an engineer, even a nun but never a teacher. It's because I had believed that teachers are perfect and I am not – they have to inspire and be a model for students. I had, however, had this dream of putting up a foundation for educators since I was 18 years of age."
At that time living beside a school, I saw that its students didn't have anywhere to go for tutorials. More importantly, I was looking for a business that would let me stay with my then infant twin boys. I wanted to take care of them myself and see their every milestone; thus a tutorial and review business would do the job. This would allow me to take care of them while doing something worthwhile, something that would make a difference in other people's lives. Unfortunately this didn't happen because clients kept referring others and I couldn't turn them down.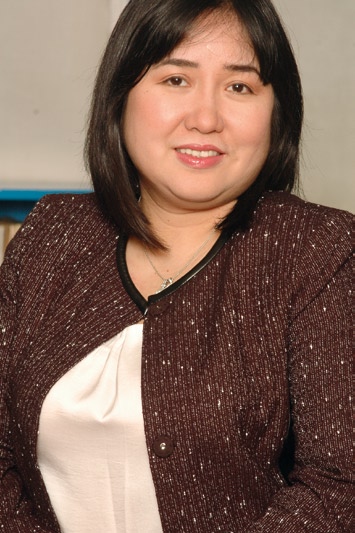 The first few days on the job were not easy. The children didn't want to be tutored. They saw tutorials as an extra work after a tiring day at school. (Until now we have students who are reluctant to take tutorials. Just a few days ago, I was convincing a 16- year-old that our program is for him and his future.) But after a while, the students won't even leave our tutorial centers. It was really fulfilling seeing our first few students get perfect scores in their tests. I remember tutoring twin girls now models Klaire and Klaudine Yapyuco, and their mom, Karel wanted to see how it goes. I became rattled and did a very poor job. I thought she would ask for her money back. Instead, she recommended me to three other parents. Later she even brought the twins back for their college entrance test review.
The difference with Ahead
One of the most challenging tasks for me is people management. Although Ahead is composed of the best people in the land, sometimes they don't see the urgency or the importance of our activities. Sometimes they don't want to follow my advice on what to do and would insist on doing things their own way. Leading, motivating, and inspiring people are an ongoing challenge. But even with this, I love my job. I love innovating and creating. And since this is my company, I have a say on what we can create or change or improve.
So why do people root for Ahead? We have identified at least several ways our programs are different from and superior to all others. We have a solid foundation of nearly 17 years. We learn patterned after the actual exams (for test preparation or review programs); calibrated after the curriculum of the best schools (for tutorials). Unique programs are available for each type of academic requirement. Speed reading is integrated into the tutorial and review courses to enhance comprehension skills. Mind mapping is integrated in the tutorial and review courses to improve memory and critical thinking. And there are refresher courses available. We also employ the top best teachers.
With such unique programs and curriculum, Ahead strives to be different. More so in general the students and the teachers appreciate what Ahead can do for them. They even hang around until our closing time and really enjoy their sessions with our tutors. And so the response of our students, teachers, and parents had been very encouraging. On our first year, people were already asking if I would like to franchise our services. But I took my time before expanding. I wanted to make sure that we were always giving the best service. For me, every day is a challenge and an opportunity. I never ever rested on my laurels. I always find ways to be ahead of myself.
My life lessons
There are many lessons I have learned upon establishing my company. First, people pay for quality; second, kids are very distracted these days; and third, the most successful students have very good parents who devote their time and attention to their children – not necessarily teach them themselves (sometimes this is not good too) but carefully choose which tutorial and review center to go to.
Because of these lessons, running a tutorial center has also shaped me to become a better person. I've learned to conduct myself more formally because I am always around students, parents, and teachers. Now that we are also dealing with other companies and their top executives, I have to dress differently as well. Otherwise, I think I am still the same old dreamer, hoping to change lives for the better – one learner at a time.
My ongoing plan right now is that I am striving to make Ahead a global company that will serve students and professionals outside the country but would give jobs and opportunities to Filipinos in the Philippines. As for myself, I plan to continue being the best mom, boss, mentor, and person I can be. In the next five to 10 years, I hope to have transformed my company into a major player in the global education industry. Others may think this is a far-fetched dream but I always dreamed and tell everyone my dream. Some would think I am hallucinating already. But I am bored by simple and easy-to reach dreams and challenged by dreams that are super hard to reach. I also believe in our potential for international success. We have world-class teachers and we already have a proven system and program. We are ready to compete according to global standards.
So who or what contributed to the success of Ahead? The constant need for each person to be successful is what fuels the success of my company. Like me, everyone has his own goals and dreams. They need someone to help them and we are here.
MY MONEY LESSONS
Lasting For Decades
Rossana Llenado started ahead with a dream. Now more than two decades later she has developed one of the best tutorial and review centers in the country. Here's how she did it.
Find what you love to do.

It may not be what you want in the first place but just like Llenado, if you see the need, work on that and then develop on it.

Keep delivering high-quality services/ products.

Remember that when you do a good job, you won't be looking for clients or customers anymore. They will be coming to you.

Find a niche market and work at "delighting" these clients with your offerings.

Be flexible with your products and services – always find out what market wants and needs, and then work on what you have learned.